mannes school of music announces appointment of brandon ridenour to faculty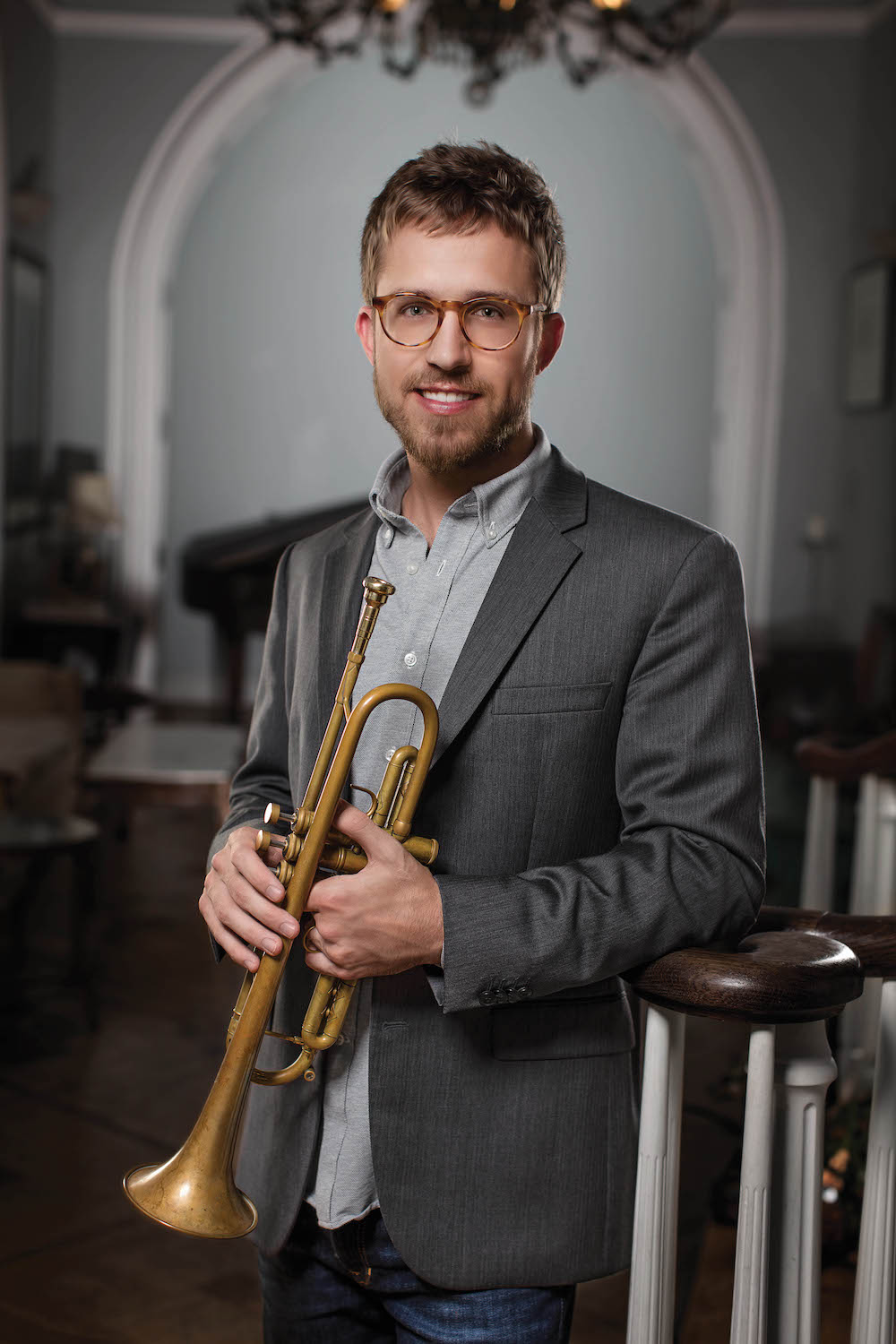 Brandon Ridenour
November 30, 2020, New York - The New School announced today that trumpeter, composer, bandleader, and arranger Brandon Ridenour has joined the faculty of Mannes School of Music at the College of Performing Arts this fall semester.

Brandon Ridenour is a stylistically diverse trumpet soloist, collaborative artist, composer, and arranger. Recognized as "…heralding the trumpet of the future" (Chicago Sun-Times) and for "demonstrating the trumpet's huge potential for lyricism" (Cleveland Plain Dealer), he has combined his wide-ranging activities as soloist and chamber musician with his passion for composing and arranging, resulting in his distinctive artistic voice and vision.

"I am a great admirer of Brandon Ridenour and am thrilled that he will be joining the Mannes School of Music faculty. As we think of the models for successful artists in the 21st century, Brandon is a true exemplar in his outstanding playing, composing, arranging, and open mindedness and inventiveness," said Richard Kessler, Executive Dean, College of Performing Arts and Dean of Mannes School of Music.
At Mannes, Ridenour will serve on the major lesson faculty in the Brass Department and will collaborate with students and faculty across the college on a wide range of special projects and courses.
"I couldn't be more excited to join this faculty and contribute to the school's diverse endeavors. It is refreshing to see an educational institution committed to many of the same things I'm passionate about: being a socially conscious artist, collaborating beyond the scope, adapting for the future, and seeking an education for the complete musician. Considering and discussing how we contribute to society as artists is especially urgent now. I look forward to sharing ideas on musical engineering for social good and helping to transform the future of music education," said Ridenour.
At the age of twenty, Ridenour became the youngest member ever to join the world-renowned brass quintet, Canadian Brass. With the group, he has played in distinguished venues around the world, performed on television, recorded ten albums, appeared on NPR's Tiny Desk, and received three Juno Award nominations. He also created a catalog of new arrangements for the ensemble, which are still performed today. Ridenour rejoined Canadian Brass in 2019 and continues to create new repertoire for the group.
Ridenour is a winner of numerous competitions, including Concert Artists Guild, International Trumpet Guild, and the American Composers Forum. He has played with a diverse array of musicians, including Sting, James Taylor, Marvin Hamlisch, Yo-Yo Ma, Wynton Marsalis, Esperanza Spalding, John Williams, and esteemed ensembles, such as the New York Philharmonic, National Symphony Orchestra, Los Angeles Philharmonic, International Contemporary Ensemble, the Knights, Orpheus, Orchestra of St. Luke's, and the Mahler Chamber Orchestra.
In 2019, Ridenour launched Come Together, an album of reimagined Beatles music celebrating the 50th anniversary of the classic Lennon/McCartney song. Ridenour has since developed this collaborative album into a larger social impact and environmentalism project, with the mission of conveying, through music, the importance of humanity coming together to take better care of our planet and each other.
Ridenour began arranging both solo and collaborative music for the trumpet in order to expand the possibilities for his instrument, sometimes including a melding of musical styles and creating a new cross-genre repertoire. In addition to showcasing these works in his own recital and concerto performances, his arrangements are also featured by the ensembles Founders (a quintet featuring trumpet/piano, violin/voice, clarinet, cello, and bass) and USEFULchamber, both of which Ridenour is a founding member. He has recorded three previous solo albums, most recently Fantasies and Fairy Tales which features his own virtuosic arrangements of classical masterworks for trumpet and piano.
Ridenour began his musical journey at age 5, studying piano with his father, pianist Rich Ridenour. He received his B.M. from the Juilliard School of Music in the studios of Mark Gould and Ray Mase. For more info, please visit www.brandonridenour.org

The College of Performing Arts at The New School (CoPA) was formed in 2015 and brings together the iconic Mannes School of Music, the legendary School of Jazz and Contemporary Music, and the ground-breaking School of Drama. With each school contributing its unique culture of creative excellence, the College of Performing Arts is a hub for cross-disciplinary collaboration, bold experimentation, innovative education, and world-class performances. 

As a part of The New School, students across CoPA experience a supportive and rigorous environment that provides abundant opportunities for collaboration with students and faculty in a wide array of disciplines including the visual arts, fashion, design and technology, architecture, philosophy, psychology, public policy, advocacy, and more. CoPA has over 1100 students seeking degrees and diplomas in performance, composition, acting, writing, as well as arts management and entrepreneurship. New York City's Greenwich Village provides the backdrop for the College of Performing Arts, which is housed at Arnhold Hall on West 13th Street and the historic Westbeth Artists Community on Bank Street.
Founded in 1916 by America's first great violin recitalist and noted educator, David Mannes, Mannes School of Music is a standard-bearer for innovative artistry, dedicated to developing citizen artists who seek to make the world a better and more beautiful place. Through its undergraduate, graduate, and professional studies programs, Mannes offers a curriculum as imaginative as it is rigorous, taught by a world-class faculty and visiting artists. Distinguished Mannes alumni include the 20th century songwriting legend Burt Bacharach, the great pianists Richard Goode, Marray Perahia, and Bill Evans, acclaimed conductors Semyon Bychkov, Myung-Whun Chung, Joann Falleta, and Julias Rudel, beloved mezzo-soprano Frederica von Stade, as well as the great opera stars of today, Yonghoon Lee, Danielle de Niese, and Nadine Sierra.
Founded in 1919, The New School was established to advance academic freedom, tolerance, and experimentation. A century later, The New School remains at the forefront of innovation in higher education, inspiring more than 10,000 undergraduate and graduate students to challenge the status quo in design and the social sciences, liberal arts, management, the arts, and media. The university welcomes thousands of adult learners annually for continuing education courses and public programs that encourage open discourse and social engagement. Through our online learning portals, research institutes, and international partnerships, The New School maintains a global presence.


MARKETING AND COMMUNICATION
79 Fifth Avenue
New York, NY 10003
www.newschool.edu
PRESS RELEASE
Media Contacts:
Will Wilbur,
The New School
212.229.5667x3990
[email protected]
Follow @TheNewSchool